Too Much Alliteration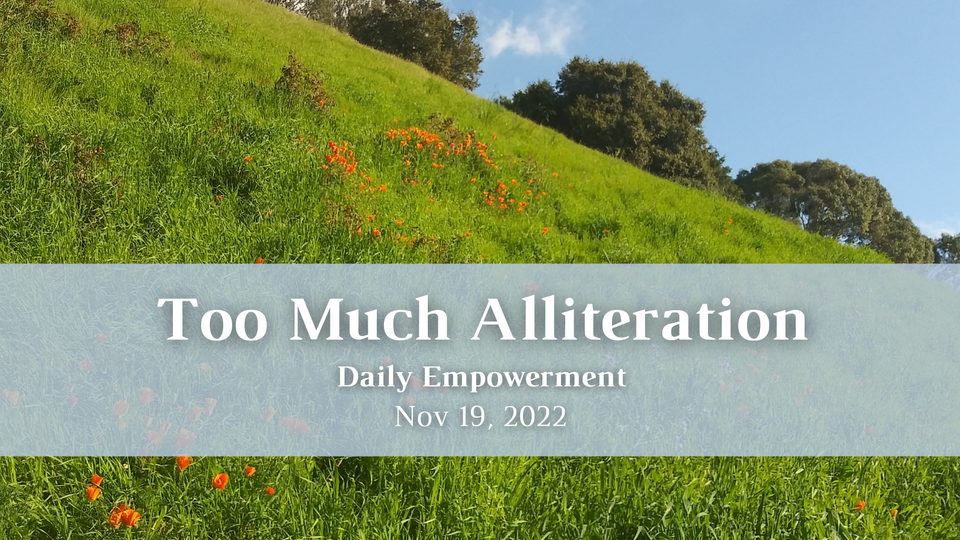 And Other Verbal Vices
Call it a verbal vice, persistent penchant, or autistic echolalia (actually, literally): I've had a life-long love affair with alliteration, acronyms, acrostics, axioms, and adages.  
...also, atypical but apropos musical references. Not usually in the sense of showtunes, but as in lyrics to any sort of song generally.
I do my best to exercise restraint, just like (for the most part) I manage to keep my hands from flapping in public - or to at least pass it off like air drumming. But now that I've moved to using just my name for my brand it seems only fitting that I let y'all see other facets of the real me too.
Gaining Momentum
"...used to think 30 years old then the end comes..."
My favorite aspect of my neuro-divergent brain is my ability to recall songs in full surround sound. Though, I can tell you from personal experience that's a big backfire in a Vipassana retreat. But that's a story for some other pages...
I often intentionally 'put on' (in my head) this particular Blackalicious song: "World of Vibrations" when I'm in need of a reminder that I'm here on a spiritual mission. It always leave me feeling honored, proud, and inspired to be blessed with a purpose such as mine.
---
Quick story:
I used to work at a record store. Yes, I'm old enough to have worked at an actual record store with vinyl records (before they became cool again), tape cassettes... I've even stocked and sold mf'ing 8-tracks.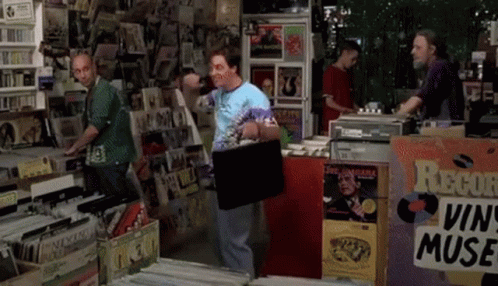 A co-worker introduced me to Blackalicious. She knew I was a poet and made it her mission to convert my musical tastes. She took a tactical approach, exploiting my astounding commitment to entirely too much alliteration. She put on the album Nia when it came her turn for staff pick on the sound system.
"A to G" broke down my resistance to any music with fewer than two guitars. Once I realized that revolutionary hip hop exists and has always existed - whewy!
My college roommate told me that the term itself is an ACRONYMN that means higher infinite power helping oppressed peoples credited to an mc whose name is also itself an acronym, the one and only: KRS ONE. (His self chosen name means knowledge reigns supreme over nearly everyone.)
The rest, as they say, is history.
---
The first used Blackalicious album I found after falling in love with Nia was The Craft. Not quit the banger that Blazing Arrow and Nia are, still today, The Craft has a couple of really amazing songs on it.
"World of Vibrations" opens the record and has some lines that might as well be mantras, for all my brain is concerned.
At 17, I just enjoyed the challenge of attempting to keep up with Gift of Gab's quick spitting style and long breath cycle. One line in particular struck me then though, young as I was:
"...used to think 30 years old then the end comes, now I feel like I'm just gaining momentum..."  
- Blackalicious 'World of Vibrations'
At 17, I could barely fathom what it would feel like to be nearly twice my (then) age. And I wondered, 'will I feel that way at 30, too?'
Now 35, I can say I do.
I feel I've only just become a "real adult" whatever the fuck that means. I'm never gonna be the one to claim I have the answer, but when I listen to this song I know that part of it means embracing the totality of who I am so that I can inspire others to do so too, in turn.
Haitus - Yes, Already
But it's for a really fucking awesome reason...
This will be my last blog post for the daily empowerment challenge for awhile.
Yes, two weeks in and I'm announcing a hiatus. Life is like that sometimes.
I set out two weeks ago to write and publish a post every single day, as a magical act of sympathetic synchronicity. Writing daily to find / draw to me (without the use of any sweetening or compulsion type magic) those who want to read my work.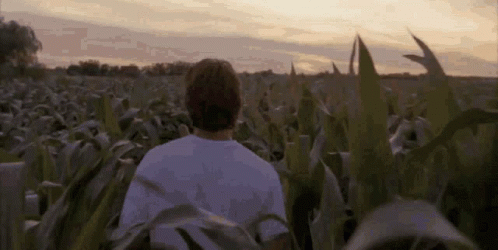 What I didn't count on was it bringing a book deal my way.
My publisher has asked me to stay quiet about the details for now, but I can definitely tell you my inner art school 15-year old self is still mouth agape freaking the fuck out. I can't believe that's a sentence I get to write.
What a beautiful wild life.
---
What I want you to take away from this post:
Keep going, trying, doing, believing.
One last quick story: working at a jazz club / restaurant I once exchanged some words with Jimmy Cobb the seminal jazz drummer. He asked if I was a musican, I said I played but not professionally. He said "keep at it young man, you never know what's going to happen."
I thought I was going to be a musicain. I'm glad I'm here instead.
💡
If nothing else, what I want you to take away from this post is this (tl;dr): you always have permission to correct course.
...until we connect again
I hope these words find and serve you well.
Last summer I appeared on Shohreh Davoodi's (now concluded) podcast: Conjuring up Courage. We talked about using astrology as a tool for self-understanding. It was my first podcast that wasn't an astrology-podcast. Shohreh is a Self-Trust Coach, and I recommend you check out her work.
She invited me on in the lead up to pride. In preparation for that episode I spent a lot of time thinking about bravery and courage.
What are they? What makes them different? What was it that made 13-year old baby Bear able to come out and be visibly queer - and an outspoken queer activist no less? What, if anything, had changed since I settled in to my "semi-stealth" life?
But also, what do those words mean themselves?
Given my aforementioned alliterative appetite, and the way my brain Charlie in the Mailroom-s language, I ended up re-writing my session copy at the time around the theme of bravery and courage.
What started as "grounded empowerment. accelerated growth" when I launched my practice became "grounded growth. embodied empowerment." And then, back to BASICs was born.
Bravery
Authenticity
Sovereignty
Integrity
Courage
Stewardship
...for grounded growth and embodied empowerment.
You can listen to our conversation here:
---
Updates Will Come, Slowly
It seems I might be nursing my injury for the next couple of months, so my updates around the website will be minimal - likely only some copy for different session types and announcements when I get recorded classes up.
You'll see a bit on this site here and there as I announce other projects for 2023:
I'm stepping on as one of the practitioners working on the Astrologer Connect platform
acting as special guest editor on a special publication slated for release in late in 2023
I'm writing a motherfucking BOOK!!!
I'm putting together a couple of classes
launching Astralids talismanic and ritually constructed planetary and stellar caps
Besides that, I'm making steady progress on developing the Intersectional Astrology work I began back at I-Astrologer 2018 and NORWAC 2020.
I'm entering the prime of my life, it feels like it, and I'm ready to harness it.
---
As always, I hope these words find and serve you well.
If there's any way I can be of service to you in creating opportunities for grounded growth or embodied empowerment, please feel free to reach out to me at contact@bearryver.com; or, book a session at: bearryver.as.me
Until next time, friends.
---
For those of you who care about the stats:
This is: post 8 / day 13
Time from draft to publish was: not calculated
Obstacle/fear/barrier(s) overcome: overcoming shyness and modesty, fear of being seen, a nerve injury causing a lot of pain in my arm and hand
For those of you wondering what the stats are about, you read about my Daily Embodied Empowerment Challenge here.