Testimonials
& Consultation Reviews
Consultation Commendations and Testimonials
See what previous clients and students of Bear's have said about working with him.
Leo C.
Bear absolutely exceeded any expectation of what I thought I was going to get in an astrology reading. He's extremely talented, having a deep understanding of the stars and also the nuances of a chart. Talking to him felt a lot like talking to a friend or a mentor and at the same time like talking to a professor or expert in the field. I highly recommend anyone who is looking to find clarity to schedule a session, and I will definitely be scheduling again!
---
Nathalie O.
I searched for a professional astrologer who was experienced in both traditional and modern astrological techniques, astrological magic, and who's vibe I instinctively jived with. After a few synchronistic events connected me with Bear, I knew I found the astrologer I was supposed to work with and learn from. I've had a couple sessions with Bear so far and am very pleased. He was able to answer my inquiries and explained things in a way I could easily understand and resonate with. I appreciate his keep it real yet tactful demeanor, vast array of knowledge, and intersectional approach. As a satisfied astrology client, email newsletter subscriber, social media follower, and monthly patron, I proudly support his work and recommend that you do too!
---
@shmatta.made
Bear is so knowledgeable, ethical, affirming… a brilliant practitioner that you will for sure book with again and again. Can't recommend highly enough!

---
@thearchetypalartist
I had a nice taster session with Bear where we focused on my Jupiter placements and the current transits, it was a delightful insight into exploring how I engage with the archetypal relationships in my chart, the time was chock-full of nuggets and takeaways to track the next phase of my life. I'm excited to engage in further exploration with Bear!
---
Tess S.
Bear brought candor, empathy and humor to our conversation. As a first-time client, I felt immediately at ease and felt I had the space to be curious and ask questions. I left with an eagerness to learn more about astrology and a deeper sense of self-understanding and acceptance.
---
K.M.
The reading was insightful and useful and accurate af. I got questions answered. I was most impressed with Bear's ability to follow my vibe and steer the session at the same time. A fabulous first astrology reading 📚😀😊❤ Definitely getting more readings as the need arises. 10/10 would recommend
---
Julianna R.
Bear put into words feelings I've had a hard time expressing myself for years in the span of an hour. His thoughtfulness came through and made me feel comfortable opening up and getting to the root of my questions. Would definitely get another reading!
---
Missi W.
I had heard Bear speak many times and every time I did it resonated with me. I booked my reading and I think I literally yelled when I first saw him. His energy came right through the screen. From that moment until we said goodbye I was completely immersed in his reading of my chart. Bear has the gift of being able to answer your question and then lead you to the next valid point without you even knowing it's happening. I was able to unlock so much knowledge from his reading but most importantly he gave me insights that have had a huge effect on how I am handling some tough transits I am going through. I can't recommend a reading with Bear enough- if you are looking for a birth chart reading or for some specific help,  Bear will guide you. Bear will definitely be a go to astrologer for me. I learned so much and am so grateful for his work.
---
Iris R.
Bear Ryver practices and embodies Intersectional Astrology in a way I aspire to in the future. Bear is humorous, kind, a co-creator during consultation not an authority and blends together beautifully traditional astro, evolutionary astro, Buddhist thought, intersectional praxis and what I imagine is their own unique perspective as a Black Indigenous human. I felt rejuvenated and restored at the end of our session which is really astounding because I began it feeling so sad and drained with current uprisings against State Sanctioned violence against Black and IPOC folx. Bear is exactly what astrology has to look forward to and what is presently emerging as the next evolution of the field: BIPOC Queer astrology. He really knows how to speak about planetary energy without the same tired Western Cishet archetypes all while utilizing Hellenistic/traditional approaches in the most skillful way.
---
Find out for Yourself
Find out firsthand what astrology can do for you. From a quick 30-minute trial session to a two-hour deep dive into your birth chart and the year ahead, come gather the wisdom and strength spelled out in your stars by cozying up in a session with Bear.
---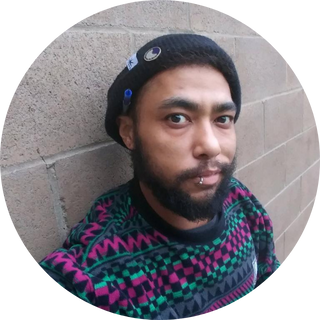 Bear Ryver is a professional astrologer helping his clients hone strategies for grounded growth and embodied empowerment by bringing them back to the BASICS. Winner of OPA's Most Promising Astrologer in 2018, Bear has lectured at conferences like NORWAC and ISAR. He holds certifications in Hellenistic, Electional, and Horary astrology, and specializes in Intersectional Astrology. He was a teacher for the Portland School of Astrology, and has volunteered as a mentor for AFAN. When he's not talking stars, or pulling cards, you can find him climbing rocks and playing guitar.