Skyvibe Serial #51: Dec 11 - 17, 2022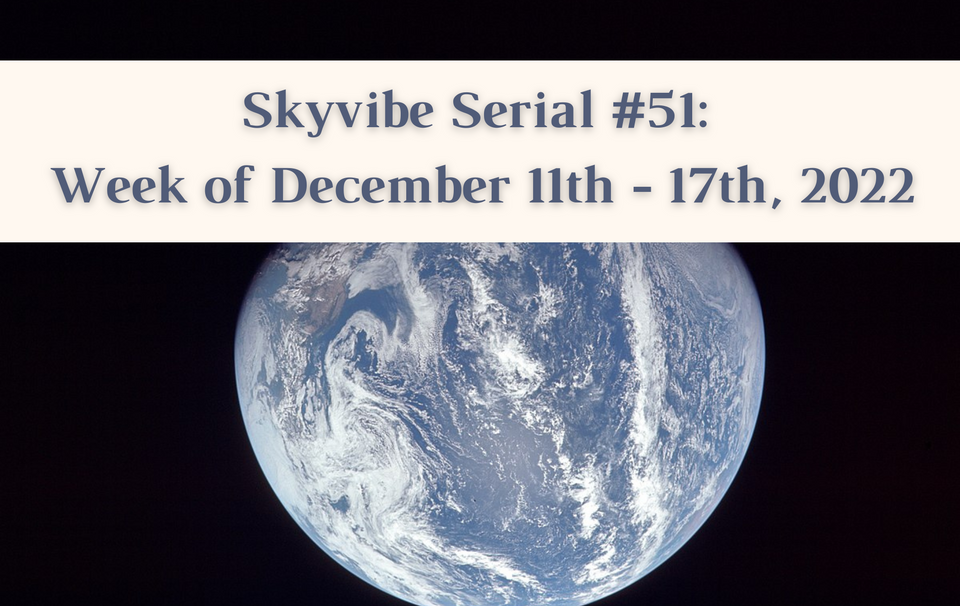 Skyvibe Serial #51
Forecast for the week of December 11th - 17th, 2022
Ready, Set, Dive Deep
Theme of the week:
Take a big breath and dive in deep with discontent.
The Good:
The flow of the Moon's movement gives us information, then clarity, then inspiration, then some healing and genius. In that order!
But, only if we are able to integrate "negative" or unpleasant experiences and information. To see / understand them as being ultimately beneficial and necessary for health and well being. Simple maybe, but not often "easy."
The Meh:
If we knee-jerk away from the pain of our discontent, or try to numb/spiritually bypass/ escape/explain away the pain we can end up convincing ourselves of that our beliefs are objectively true.
Which leads to...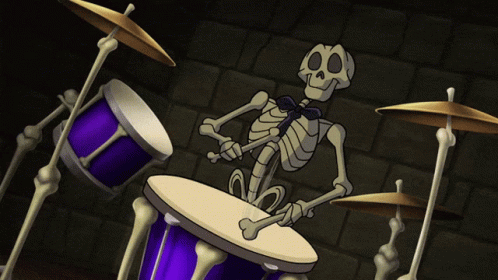 The Oh Fuck Me:
In my ISAR Lecture on the Jupiter/Neptune cycle in Pisces I spoke about religiosity. That is the trouble of true belief in the sense of Eric Hoffer's True Believer: Thoughts on the Nature of Mass Movements.
When we believe that our thoughts / feelings / values are capital-T True, we can run into some big problems. Jupiter and Neptune in Pisces invite us to surrender, merge, and unite. That can be a beautiful thing.
Or, it can be like a tricky windfallen apple – something that looks good and nourishing on the outside only for you to discover that it's mealy and dry when you take a bite.
---
*please note: "oh fuck me" is my way of subverting the normalization of conventional beauty standards; I'm not at all suggesting these outcomes are guaranteed, or that everyone is going to experience these undesirable manifestation. Rather, that in the RPG of life, these would be the chaotic evil version of the same energies described by the good and the meh (true neutral).
---
Week in a Walnut Shell
(please pardon the pun)
Week in (wal)Nut Shell:
Overall: We have the ability this week to make disillusionment and discontent allies in our work to make a positive impact in improving the material conditions of people and all our relations living on the planet Earth.
And not just in the abstract way that we always do. This week is sort of the pack up your bindle and hit the road moment we see depicted in the Tarot card the Fool. It's the end of the tutorial phase in the RPG of Your Actual Life 2020's Edition.
That's because Jupiter is moving into Aries for good, Saturn moves into the final decan of Aquarius, and the a few other synodic cycle phase changes that signal the time for... nursing nostalgia and ruminating on reveries is over.
They had their purpose: to get you clear about Your Vision(TM).
As does the heightened awareness of everything that isn't that vision that we're very much faced with accepting down here in 3D reality: to identify where change is needed.
---
In particular: Mercury, Venus, and Mars are all very out of bounds in their orbits. In short, what this means is that all three planets have gone off book. Improvising and adlibbing their way(s) through the final weeks of 2022.
It can make for more volatile, extreme, odd, out there, or atypical manifestation of those planets' energies. So while you can absolutely work with them, you can confidently expect some... strangeness afoot when it comes to communications, relations, and actions.
---
Sunday: funky.
Monday: Sunday's surge of energy can be harnessed for changing tack or course correction, if you want that.
Tuesday: kind of a bummer, tbh. ...but, in a good way?
Wednesday: creative, or quite confusion. Maybe both.
Thursday: last Jupiter in Pisces on a Jupiter day until April 21, 2033. Magical.
Friday: relatively quiet.
Saturday: clever salves for attachment wounds.
---
Day by Day
Sunday
Intense emotion bordering on repetitive rumination, particularly on what isn't working. Followed by some big swells of emotion
Early AM (midnight - 08:00, PST):
The Moon's opposition to Pluto at 27° Capricorn brings up "big feelings." One way I like to think about the Moon's function / association with food and digestion together with Pluto's connection to wealth & waste is: compost.
Digesting the stuck stagnant stuff - like adding words to the compost bin of unprocessed stuff (Moon + Pluto) handed down in our cultures and family lines.
Midday (08:00 - 16:00, PST):
The Moon's trine to Jupiter at 29° Pisces brings with it big swells of emotion that have the potential go either way in terms of positive or negative expression or experience of the energies.
Late PM (16:00 - midnight, PST):
No major aspects.
Summin' up Sunday:
Looking at the contra/parallels I think the day has a lot to say about emotional hygiene. In the same we that we practice energetic sygiene, or spiritual cleansing
---
Monday
The Sun's trine to Saturn gives "noble qualities." That's what I wrote in my prep notes. Combine optimistic insights with an imperative toward endurance and you have the opportunity to make use of the meh, and fuck me for making impactful changes that increase your alignment with your future goals.
Early AM (midnight - 08:00, PST):
The Sun sextiles Saturn at 20° of Aquarius. Both planets have moved into the final decan of the signs they're currently in. For the Sun, this means 10 days of "playing with a staff" and threatening violence. For Saturn this means the final few months of Sky Elder's trip through their airy sign.
This sextile is essentially the "waning Moon" of the Sun/Saturn cycle. Because the Sun moves so quickly, their conjunctions are annual. And because Saturn is moving into the sign of Pisces in the beginning of March, we won't see another Sun Sag/Aqua Saturn aspect until November of 2050.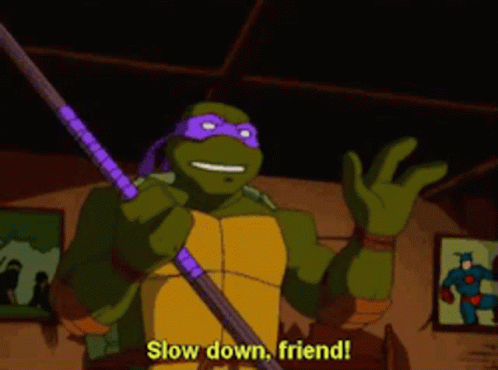 Make the most of the clear-eye'd insights you have today.
The plans you're able to conceive and the way forward you're able to perceive are vitally important information for the 2023, and the well beyond.
Take heart.
Take notes!
Midday (08:00 - 16:00, PST):
Moon at 11° Leo trines Chiron at 11° Aries. Given the Moon is also moving toward the opposition to Saturn at the same time (see Tuesday), it's still likely that this aspect is going to bring up or activate our tender parts / stuff.
If you've known me awhile you won't be surprised to hear me say that I think this is still a good thing.
Late PM (16:00 - midnight, PST):
At 5:17pm PST the Moon in Leo sextiles Mars at 14° Gemini.
Monday's More or Less:
Getting clear about the gap between our dreams for the future and our present reality is not usually fun, comfortable, or easy. But it is the simplest most powerful way forward.
The Sun brings the information to light. Saturn let's us know the long-term consequence. Mars takes the "revised blueprints from the architects" (Sun and Saturn) and gets to work at the (re)construction site.
---
Tuesday
This is one of the relatively quiet days of the week. Particularly in comparison to Thursday and Saturday. The Moon comes in to digest what the Sun and Saturn just brought up yesterday.
Early AM (midnight - 08:00, PST):
The Moon at 21° Leo opposes Saturn at 6:08am PST. At 7:51am the Moon trines the Sun.
By now we're all pretty familiar with the Fixed Sign Fuckery(TM). Every time the Moon's gone into any of the fixed signs they've tangled with the Nodes and Saturn.
The combination is something along the lines of "oh no I hate this!" Followed by inflexible resistance to the demands from our external environment for adaptability, flexibility, and resilience... or, an emphatic insistence on changing everything right the fuck now. Which seems to culminate after 2.5 days (roughly the Moon's stay in each sign) with exhaustion or a flurry of inventive activity.
It all really depends on where and what the fixed signs and their rulers are all about in your chart. I'm always happy to help you figure that out. If you're curious, you can book a session with the button below.
---
Want to know how this plays out in your chart? Book a reading!
---
Midday (08:00 - 16:00, PST):
The Moon is void of course, and makes no aspects to any other planets unit tomorrow afternoon.
Late PM (16:00 - midnight, PST):
If you wish to and can, rest. I hear it's good for you or something?
Tuesday's TL;DR:
Monday really was a lot to chew on. We'll spend most of Tuesday and Wednesday finishing that bite properly. Take the time to digest, assimilate (like nutrients, not dominant cultural narratives!), and integrate the realizations that you had / have been having.
2023 is gonna expect you to have them well in hand if you plan to take advantage of Jupiter's transit through Aries.
---
Wednesday
The notes in my forecast prep book say "creative day. or cutting through illusion."
Ultimately there's a potential for some productive conversations that lead to relational healing. As long as you can be patient with them. Mercury is going to revisit this part of the sky in mid-January.
I probably said it best in the week ahead forecast I did for the Astrology Hub Podcast. Click the link below to check out my conversation with Amanda Pua Walsh over on YouTube (but like, after you finish reading this).
---
Early AM (midnight - 08:00, PST):
The Moon moves into Virgo at 12:45am PST.
Still no major aspects from the Moon though, so it'll likely be a quiet morning. Give yourself permission to be a bit more introspective than usual, if it suits you.
If you have to work or engage productivity more than you would otherwise desire, see if you can extend yourself kindness and compassion, and if you can try extending compassion toward those feelings to.
Midday (08:00 - 16:00, PST):
The Moon's first aspect since moving into Virgo is a trine to Venus at 5° of Capricorn.
This time last year we were in the midst of a Venus retrograde cycle happening in Capricorn and I talked about the way Venus in Capricorn would bookend 2022 – and now here we are on the other side of it.
What have you learned about the work of building relationships that stand the test of time? How have you learned to love yourself differently? Who are you when you're with the ones you love, and who are they?
The other way of thinking about the Moon (feelings) is as embodiment / materializing / manifestation. In the Orphic Hymn to Selene (the Moon) She/He* is called "bright giver of good grace and bringer of completion."
Late PM (16:00 - midnight, PST):
At 9:21pm Mercury squares Chiron.
Wednesday's Word:
Clearly communicated boundaries are not demands that dictate what another person owes you. That's some wild capatlistic nonsense thinking, if you ask me. Boundaries instead are invitation into building long-term trust and intimacy.
Just like the difference between a request and demand (we're talking Non-Violent Communication here), a boundary allows for both parties' agency and personal sovereignty.
---
*In the Hymn Selene is referred to as "both male and female." The planets don't have gender in the human construction. It's probably best to think of a different word stemming from the latin genus: genre.
Gender and the planets is a very big other time another page though, so on to Thursday.
---
Thursday
This is the last Thursday we'll see Jupiter in a sign of dignity until June of 2025. And we're pretty fortunate that the Moon will be making an aspect to Jupiter (though it doesn't perfect until 11am Friday). If you've been considering building a relationship with the planets or working with the planetary days this is a really good one to turn toward Jupiter.
The day itself is a busy one. The Moon makes five different aspects including to Mars, Uranus, and the Nodes. Most of them in the first part of the day.
---
Early AM (midnight - 08:00, PST):
The Moon in Virgo trines Mercury at 11° Capricorn, then sextiles the South Node/ trines the North Node, squares Mars at 13° Gemini, and then trines Uranus at 15° Taurus.
Midday (08:00 - 16:00, PST):
And after all that we all deserve a nap! No major aspects until later tonight.
Late PM (16:00 - midnight, PST):
The Moon opposes Neptune at 22° Pisces. Dreamy as fuck. Confusing af. Sleepy af. ...totally out of touch? Or tuned in to the subtle realms channeling, making your art... As always, it's up to you what you do with the circumstances and resources at your disposal.
I gotta do an astrologer due diligence and implore you to practice harm reduction at least, and ideally maybe even abstain, from consciousness-changing chemicals and plant allies. It's possible to do too much in a way that your system may find hard to process.
When our emotional metabolism or somatic faculty (Moon) runs into conflict (an opposition) with our vision of the transcendent (Neptune) it can feel like we've got metaphysical or spiritual indigestion. Doubt, questioning our beliefs, a belly full of dissatisfaction are all possible; or, feeling we're under attack, if we're deeply identified with those beliefs.
In plain English, the Moon is the part of us that digests the things we observe so that we can turn them into experiences – just like the Moon rules the process of digesting breast milk and turning into a growing baby.
Just Jot this for Jupiter's Day:
This is the last time that will happen with Jupiter, the ruler of Pisces, also there in that sign. It's kinda like having your cool uncle there to mediate an argument between your inner artist who just wants to eat a bunch of psychedelics sometimes and the part of you that knows how much that upsets your tumtum.
---
Friday
A relatively quiet day again. A welcome reprieve after yesterday.
Early AM (midnight - 08:00, PST):
The Moon squares the Sun 24° Sagittarius. The third quarter moon, or the closing square in the lunar cycle is one that's about resolving what can be resolved and beginning the process of letting go of what cannot be brought to completion with respect to whatever you began back with the New Moon on the 23rd.
Midday (08:00 - 16:00, PST):
The Moon opposes Jupiter for one last time while the thundering Lord of Largeness is still in Pisces.
It's the only major aspect among traditional planet today. So, even though it's the day of Venus, we've got the opportunity to soak in just a little bit more Jupiter before the two change signs. For the Moon, that's 30 minutes later. For Jupiter, just a few more days.
Late PM (16:00 - midnight, PST):
No major aspects from the Moon.
Venus Votes:
What are you deepest hopes and dreams? What visions make you feel like a part of or one with the Cosmos/Universe/everything that is...?
What does it feel like in your body to hold in your heart and mind's eye your Vision of what good is or what you/we're here for? Spend as much time today as you can noticing that feeling in your body and remembering where it lives.
You'll want to call on that feeling in the year to come.
---
Saturday
We end the week with another day of many Moon contacts. It's another one where it's possible to make headway with relational or attachment related healing, or coming up with inventive strategies for building healthy relationships that honor you and the people in your life as they really are.
Messy challenging parts and all.
Early AM (midnight - 08:00, PST):
The Moon squares Venus at 9° Capricorn. Think back to Wednesday. What creative impulses came through, what relational stuff came up? It might come through again in the early part of the day.
Midday (08:00 - 16:00, PST):
The Moon in Libra opposes Chiron at 11° Aries giving us a chance to feel into attachment stuff or relational things and an hour later the Moon trines Mars at 12° Gemini.
Particularly on the heels of the Venus linkup earlier this morning and the Moon + Venus + Chiron vibes from earlier in the week on Wednesday, midday Saturday looks like a fruitful time for processing. That may very well be processing with yourself about your relationship to relationship, or with your partner about the partnership, with friends about your family, family about your friends...
The last midday aspect is Mercury's trine to Uranus which I'm thinking of as part mad scientist, part trickster genius. There's an opportunity for some brilliant ideas, ingenious strategy. Expect them to come fast and furious and flit away just as fast.
Be sure to keep the note capturing method of your choice handy and accessible throughout the week and in particular on Saturday. Expect to have to revise these plans, meet obstacles, or delays though. Just now that it'll be worth the extra fuss. Ime, when we honor Mercury's retrograde rhythms they gift us with hilarious pranks and incalculably precious information in equal measure.
Late PM (16:00 - midnight, PST):
The Moon square Mercury at 15° Capricorn. The Moon comes in to digest the information exchanged and created by Mercury and Uranus's afternoon brainstorm.
Saturn's Summary:
The week ends with an epic brainstorm long-term strategy and project managment / planning meeting amongst several planets. It's almost like two factions or teams from a big organization coming together. Mercury and Uranus are there for the innovation and systems thinking / change. Chiron and Venus are there to make sure that relationships are balanced and that everyone gets a fair shake.
And that's the week of December 11th - 17th.
---
As always, I hope these words find and serve you well. Thank you so much for taking the time to read.
If there's any way I can be of service to you in creating opportunities for grounded growth or embodied empowerment, please feel free to reach out to me at contact@bearryver.com; or, book a session at: bearryver.as.me
---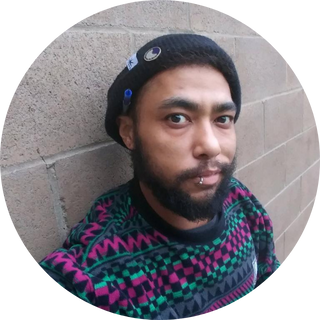 Bear Ryver is a professional astrologer helping his clients hone strategies for grounded growth and embodied empowerment by bringing them back to the BASICS. Winner of OPA's Most Promising Astrologer in 2018, Bear has lectured at conferences like NORWAC and ISAR. He holds certifications in Hellenistic, Electional, and Horary astrology, and specializes in Intersectional Astrology. He was a teacher for the Portland School of Astrology, and has volunteered as a mentor for AFAN. When he's not talking stars, or pulling cards, you can find him climbing rocks and playing guitar.