December 2022 Newsletter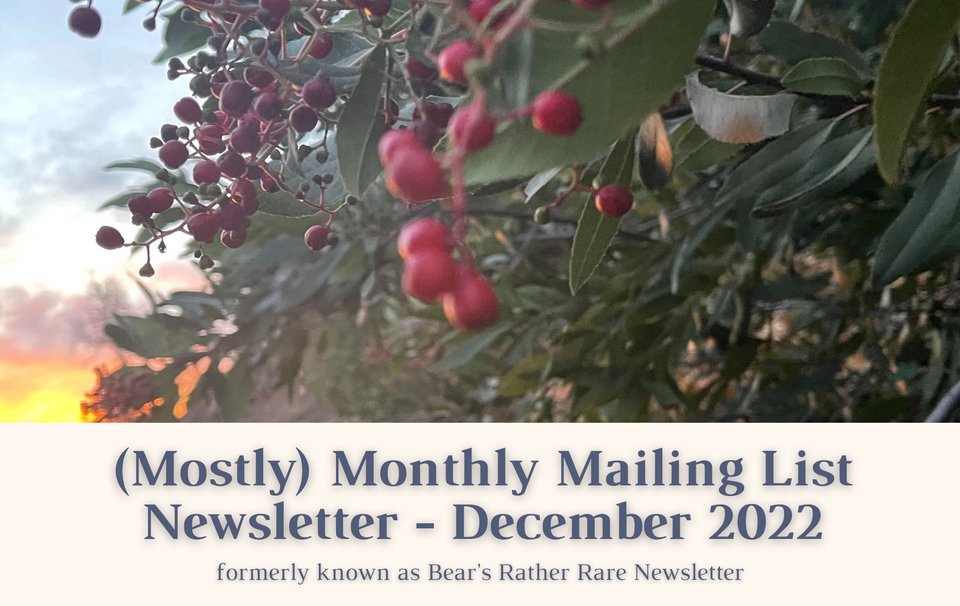 December Solstice Newsletter
Forging Ahead and Facing the Furious Pace of Change
New Air, New Bear
This is the last newsletter of the 2022, and one of the few I've managed to get out.
So much has happened – and so fast.
If you're not much on social media, you might have missed that I've got a new website (slash membership platform / mailing list / newsletter subscription service)!
Along with spiffy new handles (@bearryver basically everywhere), and a veritable variety pack of new offerings in the pipeline for next year.
Some of you will be quite surprised to find that this mailing list email is also a post on the website.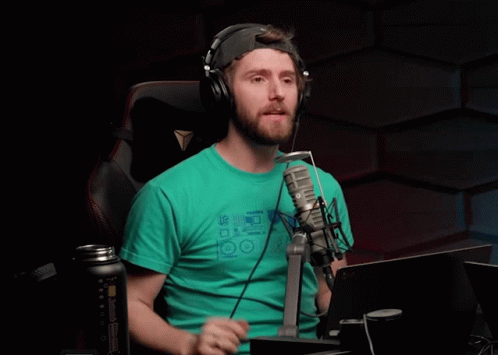 Why should you care about that? Two reasons:
The amount of time I spent reformatting posts from one platform to the next killed a lot of work before you ever had the chance to see it in the last two years. We're fixing that now.
More important for you: there's things like discount codes, and early announcements - that will only get out through the mailing list. So, even if you visit the website regularly, you're going to want to make sure you're signed up for the newsletter(s).
---
New Newsletters!
Bye bye Bear's Very Rare Newsletter. Welcome...
New Newsletters!
Since 2018, the newsletters have been very rare, and a random mix of announcements, forecasts, sometimes just one or the other...
Yeah... No, I'm not really one for self-promotion. But I am dedicated to being of service. This year I've realized that means sucking up my ego's shy streak and putting out tangibly useful work for y'all on a regular basis.
I know some of you don't want to be inundated with incoming messages to your inbox. This is part of what makes Ghost (my new webhost/platform) so awesome.
I can do cool 'only in the email' things for announcements, deals, classes, etc. And I can make other offerings ones that you have more options and control over with respect to how you like to receive.
Three Newsletters
There are now three newsletters, two of which will be launching this month!
Mostly Monthly Newsletter aka the mailing list
Free subscription: news, announcements & updates; occasional discounts, early sign-ups for new offerings, etc.
Betterthans & B-Sides: Making the Best out of Bad Timing
Paid subscription: betterthans and b-sides are for making the best out of bad timing. Not quite elections, but better than rawdogging fate. You can read more about them here.
Myxticism: Musings about Magic and Mysticism from the Margins
Paid subscription: long form essays like Fortnightly Lunacy and Interlunar Etcetera (v2.0), and more...
You can opt in or out of any of the newsletters using the button above.
---
Subscribers, Members, and Patrons - Oh My!
Transitions in the Works
Conversion of Community Container(s)
I'll never be able to say how grateful I am for Patreon, or y'all's continued support over there.
And yet, there's a lot for my ND brain that doesn't work about that platform. Plus, I'll be blunt: Patreon takes a cut of your monthly contributions, and Ghost doesn't. Lastly, there's some stuff I aimed to do over there that just can't be carried into the future in the same way.
MICA May Be Gone, But Something New is Coming
MICA (the metaphysical and intersectional collective of astrologers) was a big goal I'm saying goodbye to. While the initial iteration of that vision (MIC) has been part of my business plan and goals for my practice since early 2018, the folks that I invited to help me with that project have all fallen away.
Collectivism is still an important goal for me. Tentatively, I'm kicking around Ursa Major Change Collective (UMaC for short?) as a new name/spell/beacon for bringing together whoever you/we all are.
Or, maybe it's just back to the Metaphysician's Intersectional Collective?
While UMaC is a vision for the future, holding a container that's got the qualities of adaptive emergence is something that can happen now. And here.
Memberships - free or paid - give you the ability to comment on the website. My hope is that this servers as a gateway/springboard toward leveraging integrations with Discord and Mighty Networks down the line.
---
Which is a long way of saying that I'm transitioning away from Patreon over here to bearryver.com.
If you're a patron over there, you'll have access to perks on both sites. No need to do anything extra (though I'm still on the learning curve, so feel free to reach out if you notice a glitch or hiccup).
If you sign up here, you will not get access over on Patreon - but you will get access to all the same benefits all of which will be delivered here.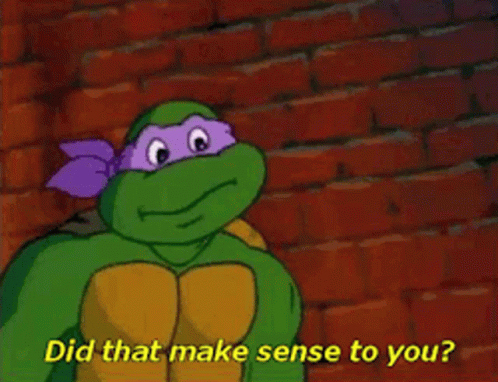 ---
Subscriber vs. Member vs. Patron
What's the difference? Right now, I can't tell yet! It's probable that there's not yet an offering or type of content that makes those distinctions relevant.
Yet.
2023. What Will it Bring?
New offerings, teasers, and announcements
I'm Writing a Novel!
...or, at least a book. It's not a work of fiction. And my publisher has told me to tease the hell out of it, but to keep my mouth shut about the details.
If you want to be among the first to learn about the book, make sure you're signed up for the newsletter.
---
Astrologer Connect
I'm so fucking pleased, honored, thrilled, and excited to announce that I'm one of the practitioners invited to offer services for Astrology Hub's new Astrologer Connect platform!
In addition to booking regular sessions through my calendar with me - you'll now be able to check in and see if my light is on - DROP INS, WALK INS, and INSTANT CALLS are going to be a thing. Even text chat options. Those are things you'll only be able to get through Astrologer Connect.
How cool is that?
AND!!
Astrology Hub is hosting their 7th annual year ahead forecast on Saturday December 10th at 3:00pm PST.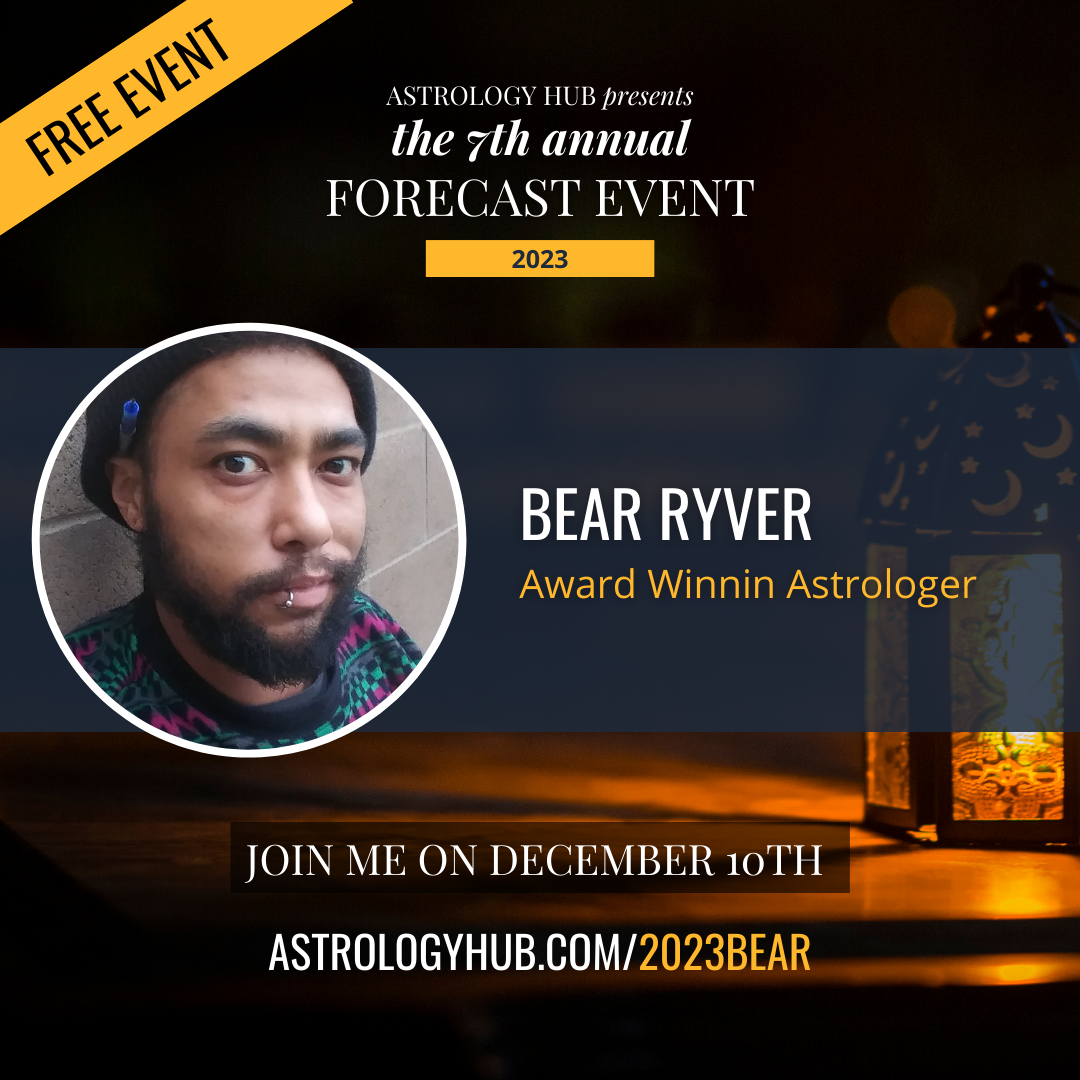 It's gonna be great, the lineup is stellar, and it's gonna be recorded for those who can't attend. But - recordings are only going out to attendees who are signed up before the event.
Bonus:
For six days after the event you'll receive sign-by-sign breakdowns of the year ahead recorded by some of the leading astrologers in the field today!
I had the pleasure of recording the first one - Aries!
Sign up using the link below:
---
Intersectional Astrology and the Intersectionality of Astrology
I've been continuing to my intersectionality work over the last couple of years teaching a class to the Portland School of Astrology.
After all this time I've finally sorted out how IA is different from the I of A, and how to move forward presenting the work in a way that I think will be a benefit for practitioners, clients, and the world alike.
I've got plans to launch the Intersectional Astrology class series late in 2023 or possibly very early in 2024. Regardless, throughout the year I'll be releasing articles (and maybe videos too) on the Intersectionality of Astrology.
In short, IA is the theory and praxis of the practice in application. While I of A is where/how/when we've seen the Intersectional anayltic put forth by Kimberle Crenshaw in the field, literature, and teachings of astrology.
You can learn a bit more about that here: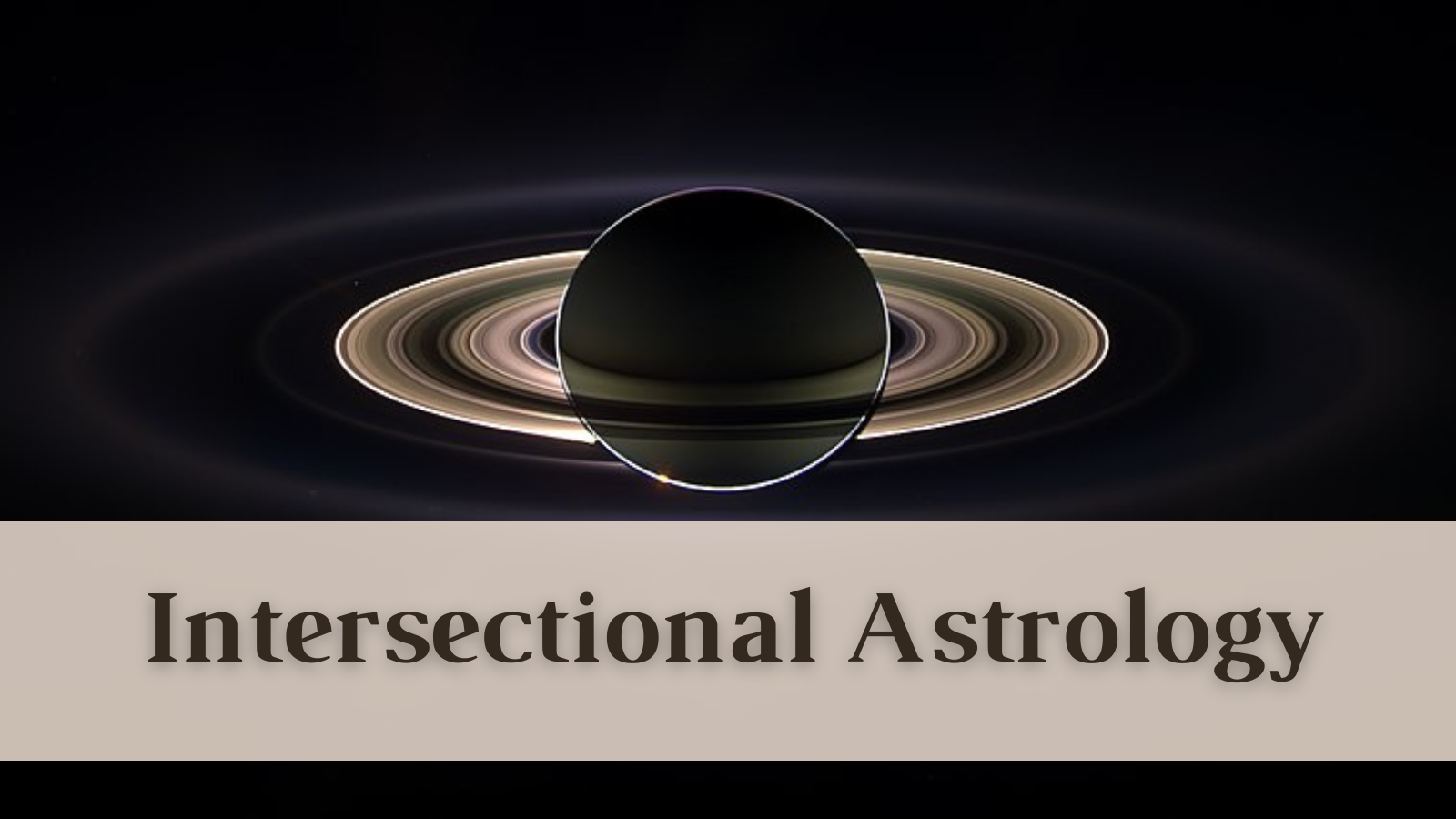 ---
December Deals & Discounts
Financial Accessibility Offerings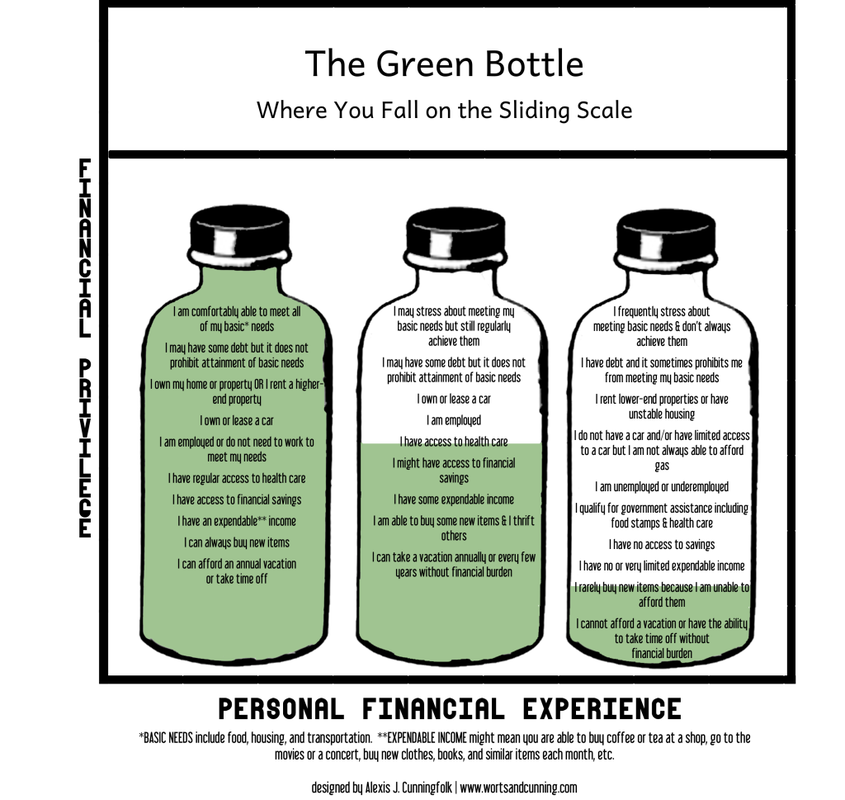 Sliding scale and dana consultations are back!
I'm sorry I lost my anti-capitalist nerve last year and took them down in the first place. Consider this my promise to you that they're here to stay for good.
You can access the sliding-scale booking page here now - and will see a page on the website in the coming weeks.
You can get more information about the dana-based consultations below:
---
Discounts and Deals!
Maiden voyage with this who email only content thing.
If you're a patron and you see nothing between maiden voyage and this sentence, could you please let me know?
Gift Certificates
They're back, too!
The way I'm doing them this year is that these gift certificates are good for a session length, no matter when they're used.
Beginning in 2023 regular gift certificates will be for a dollar amount - and may or may not cover a full session if your gift recipient waits a long time to redeem.
Gift a 60-minute consultation.
Gift a 90-minute consultation.
---
Early Adopter Subscriptions
So, up above I told you about my two new paid subscription newsletters about to launch.
Myxticism: Musings on Magic and Mysticism from the Margins, and Betterthans & B-Sides: Making the Most out of Bad Timing.
I'm offering a big special deal until the end of the year:
💡
lifetime subscriptions - for the cost of just one year.
The offer is good until 11:59pm December 31st. I don't plan on offering it again.
---
December Live Chat Support Forum
They're Back!!!
Ask and Ye Shall Receive
A patron and client recently asked me about the live chats I used to do. Well, we're switched tenses again - and there's still time for you to make this month's live recording.
Friday December 16th at 5:30pm PST
is the next scheduled live chat / support forum / star sesh.
Come as you are, come with your chart, come with questions!
---
Okay, I think that's it (famous last words).
This week's Skyvibe Serial (the weekly week-ahead forecast) is coming out a bit late. Though, I covered Sunday in last week's. And either way, the Moon is making no aspects anyways.
You'll see Skyvibe Serial #50 featured on the website's homepage by tomorrow morning.
As always, I hope these words find and serve you well. I look forward to seeing y'all soon!
---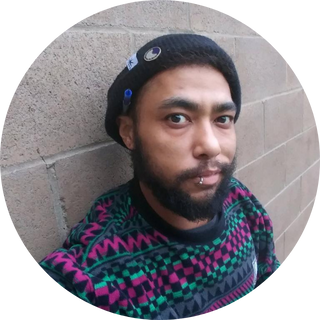 Bear Ryver is a professional astrologer helping his clients hone strategies for grounded growth and embodied empowerment by bringing them back to the BASICS. Winner of OPA's Most Promising Astrologer in 2018, Bear has lectured at conferences like NORWAC and ISAR. He holds certifications in Hellenistic, Electional, and Horary astrology, and specializes in Intersectional Astrology. He was a teacher for the Portland School of Astrology, and has volunteered as a mentor for AFAN. When he's not talking stars, or pulling cards, you can find him climbing rocks and playing guitar.