Skills at your Service
or, 'Service Type Descriptions', but that's so boring
When you book a session with Bear you're getting a certain amount of his undivided attention. Essentially, there's a only a few different types of consultations: astrology general, astrology with a particular focus, and tarot.
For the visually-minded, check out this flow chart. For the linguistic-learners and folks using screen-readers, just follow the along and we'll walk you through it.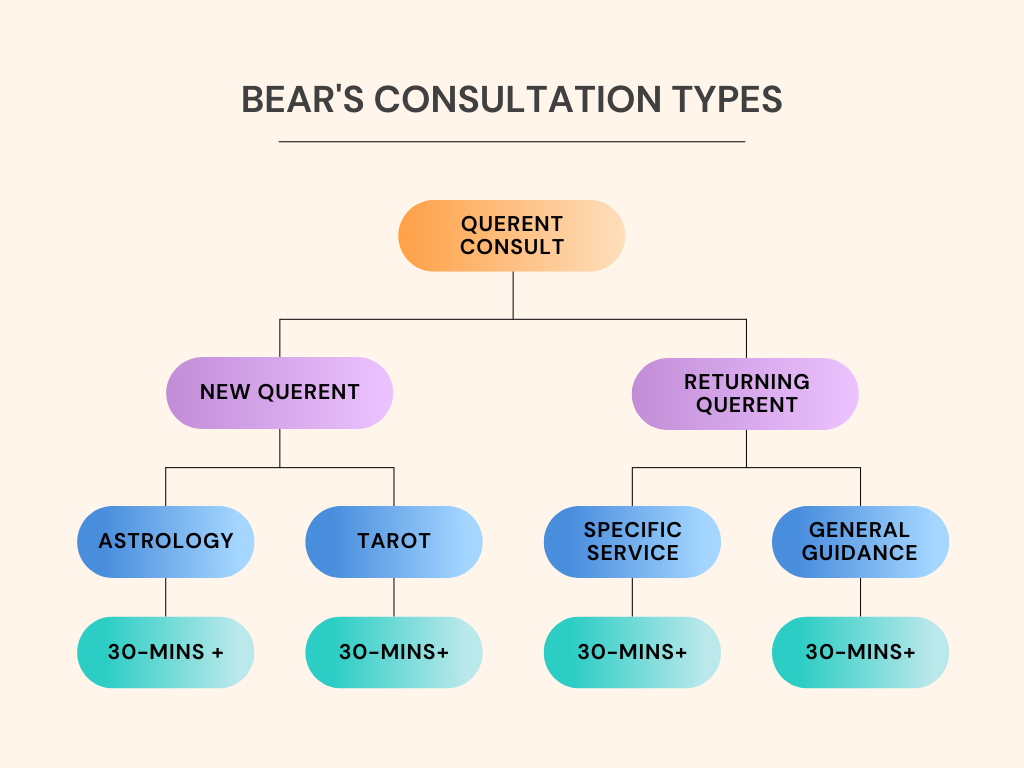 [image description, a simple flow chart beginning with the sole option of querent consult.
top row: one round orange cell reading "querent consult"
second tow: two round purple cells. the cell on the left reads "new querent", on the right "returning querent"
third row: four blue cells. branching to the left from new querent is "astrology" and to the right is tarot. descending from returning querent the leftward branch arrives at the blue cell reading "specific service" while the rightward reads "general guidance"
forth row: from each blue cell descend the a turquoise cell reading "30-minutes, plus". there are four in total]
---
What You Need to Know
In short, you're booking an amount of time, and Bear will bring his skills and respond to what emerges in the session regardless.
That being said, between Astrology, Tarot, and Reiki alone there's a diverse set of strategies Bear might employ to prepare for your session.
Note for New Clients
Since all new querent / new client / first-timer sessions are general in nature and begin at 30-minutes by default, there's not anything you need to know beyond the what's true across the board bit.
Choose between astrology and tarot, and decide how long you'd like to chat. That's it!
$100/30-minutes, $180/1-hour, $275 90-minutes
There is one exception, and that's the special New Client Solar Return Add-On. Because a proper delineation of a return, or revolution, requires a minimum level of familiarity, these sessions simply need more time. $375 for a 2-hour session.
You can get the same 30 minutes of new client general chart consultation and 90-minutes of solar return session as a returning client with a significant amount of savings. But, it's not possible to book both of those for the same day, or even at the same time. It really comes down to the amount of time Bear spends ahead of time preparing. He's equally happy with whatever you choose, so make the choice that's most exciting and appropriate for you.
---
What's True Across the Board
All sessions are conducted by Zoom.
Unless you're local to Bear and have already made arrangements with him to meet in person.
All sessions default to 30-minutes.
You'll have option to add additional time. If you've been around awhile, know that the pricing comes out the same in the end.

You'll get the option to record the session on your own device.
If you'd like to a recording of the session be sure to attend the meeting from your computer as tablets, chrome books, and phones do not give you the option to record the meeting. If you don't have access to a computer, contact Bear for alternate options.
All sessions include a 15-minute post-session follow-up.
If you have questions in the weeks following your session, you have the option to schedule a quick 15-minute follow-up with Bear. It's totally optional, and included in the cost of booking. You're of course welcome to email your questions instead.
---
Essential Differences
New Querent (aka client) vs. Returning
Relationally, there's a lot a first session has to do. It's got to serve as a container where we can each get to know each other – establish a little rapport, shared language, common understanding of what we're attempting to do, etc. Technically, there's a lot an astrologer needs to establish before getting to the fancy techniques.
What this means is that all new client consultations are general natal chart consults by default.
Returning clients, since we've already established rapport have the option of booking special session types, have a couple of extra duration options, and a slightly discounted rate.
Astrology vs. Tarot
The difference is self-explanatory.
With astrology sessions you can add a little time for tarot. But you can't add astrology to a tarot session.
---
Astrology Session Descriptions
Aquarius season update:
More specific session descriptions will be added in the coming weeks. In the interest of ensuring the new structure is clear now, this page is being published in a very in-process state.
---
Astrology Sessions
The first session with Bear is always general in nature, at least for the first 30 - 45 minutes or so. That's why new client sessions are structured as they are.
After the first session though, the sky is the limit. Bear's skills in horary and electional mean that whether you've got a particular question, need help with a plan, or just want to dive deeper into a particular placement or topic, he can help.
Special topics range from horary, electional, to deep dives into particular houses, planets, or transits – and their implications – active in the sky. Read on for a brief description of each session type below.
But also relax into knowing that Bear practiced on the fly readings as part of building his chops. He typically opens sessions asking if something happened in the last 24 hours that you'd rather talk about instead. Think of these descriptions more as jumping off points, and as containers to shape the preparation and expectation-shaping process for that particular session.
---
Currently Available Special Sessions for Returning Clients
Electional Astrology
Bear has his completed his electional certificate through Chris Brennan's Astrology School. If you're a premium subscriber, you may be familiar with his Betterthans & B-Side "sub-lectional" report for making the best out of bad timing.
For good timing, and personalized electional charts rooted to your birth chart and keyed for the success of your particular goal or enterprise, Bear offers electional support. In the past this is something he's only offered to regular ongoing clients.
Currently, you'll still need to email Bear directly to set up your session, as the particulars of your situation, and timing constraints can have a big impact on how much time it takes to provide or find the right chart.
Horary Astrology
Bear earned his Horary practitioner certificate from the School of Traditional Astrology in 2019. Since then, like electional, it's a skill he's reserved for returning clients for lack of a booking process that would make opening horary to the public feel right for him.
Returning clients with a specific question in mind are advised to schedule just a 30 minute session, unless there's a lot of backstory we haven't discussed in previous sessions.
---
Jupiter's Lightning Strike Sessions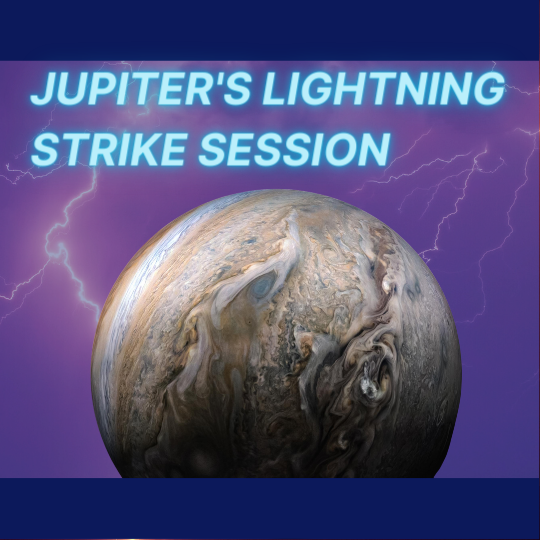 Learn what Jupiter's lightning quick transit through Aries holds for you. We'll take a look at your chart through the lens of Jupiter – when has Jupiter been active as a timelord, what is Jupiter responsible for in your chart, and what does the transit of Jupiter in 2023 have to teach you about the lessons your natal Jupiter holds?
These are only on offer until January 31st (when Jupiter is leaves their term of Aries).
---
2H / 8H - "Road to Hell & the Gates of Hades" Session
A set of sessions Bear opened up after his conversation with Sam Reynolds on Kirah Tabourn's Strology Show, these sessions are often deep and tender.
Inspired by the thought: 'what if the phrase read above the gates of hell in Dante's Inferno, "abandon all hope ye who enter here," was actually a benediction – a blessing – and not some ominous warning?
Entering your chart through the 8th and 2nd houses can teach one a lot about what you value, and how your values shape your choices, actions, and relationships. How you accept the harsh truths of reality – everything is impermanent, we'll all die eventually – and turn those realizations into empowering encouragement is the core purpose of the 2H/8H session. But surprisingly, they're not often as focused on death or money as one might think.
Learn about the ways you share, invest, and negotiate your power. Learn about the roots of your joy, and the origin of your hopes for the future.
You can listen to that episode of the Strology Show here:
---
Sessions Currently Closed
Some offerings are transit-timed. Mini Mercury readings happen only just ahead of Mercury's retrogrades. The 4/20 session is likely only going to be offered just that one day each year. Some may pop up for public beta runs, and disappear again for tweaking and adjustments.
Mercury's (Mini) Magic Session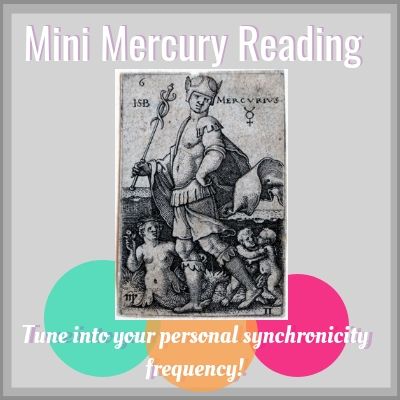 Something Bear's been offering on and off leading up to Mercury's retrograde since the very early days of his practice. These sessions are only available a couple of times a year. True to Mercury retrogrades notoriously impish ways, often when they're available there's only a fleeting announcement and in just a few of the usual places.
Be sure you're signed up for Bear's newsletter if you want to learn about when these limited availability sessions open.
---
Tutoring, Mentoring, and Classes
Bear has been involved in peer-facilitation and mentoring since his teenage years. Bringing that same desire to share what he's learned and empowering others to do the same is only natural. Over the last couple of years Bear has had the opportunity to teach and mentor for orgs like the AFAN (the Association for Astrological Networking) and the Portland School of Astrology. Bear's also had a private mentee, and is currently running the first astrological classroom through his own practice.
Below you'll find the services that are neither astrology consultations or tarot readings, but purely educational. Pick Bear's brain about the last five years of building a professional astrological practice from scratch, applying an Intersectional lens to astrological praxis, writing an astrological or spiritual business plan and more.
Study Sessions / Tutoring Time
Want to pick the brain of a professional astrologer? Learning or practicing a new skill and want a second set of eyes to check your understanding? Want a pro astrologer to assign you homework?
Drop into Bear's office (den) and chat about the stars.
please note: these sessions are not for any type of chart reading. Bear will not be pulling up your chart to delineate it for you, though he'll answer questions and help you delineate your own.
---
Have a Question for Bear?  
If you'd like to reach out to Bear directly you can reach him at: contact@bearryver.com
---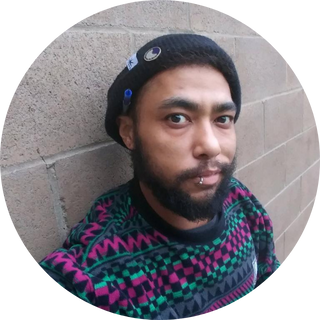 Bear Ryver is a professional astrologer helping his clients hone strategies for grounded growth and embodied empowerment by bringing them back to the BASICS. Winner of OPA's Most Promising Astrologer in 2018, Bear has lectured at conferences like NORWAC and ISAR. He holds certifications in Hellenistic, Electional, and Horary astrology, and specializes in Intersectional Astrology. He was a teacher for the Portland School of Astrology, and has volunteered as a mentor for AFAN. When he's not talking stars, or pulling cards, you can find him climbing rocks and playing guitar.