Book a Consultation with Bear
get back to BASICS for grounded growth and embodied empowerment
An astrology reading, having your tarot cards pulled, a reiki session or attunement – these should all bring you back to the BASICS.
Bravery.
Authenticity.
Sovereignty.
Integrity.
Courage.
Stewardship.
From the BASICS, embodied empowerment and grounded growth flow naturally.
A session with Bear is about finding your back to the center of yourself. Remembering that you are the one you've been waiting for.
---
To learn more about the structure of Bear's session offerings, or to read more about particular session types, visit the service offerings page: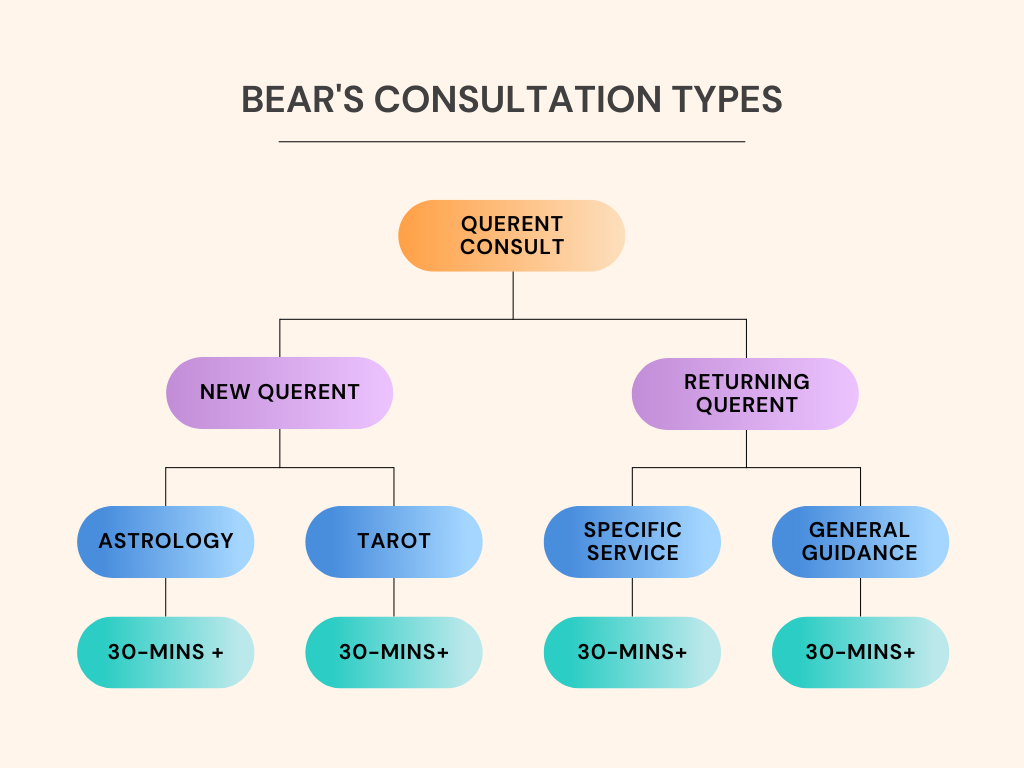 Essential Information
All sessions with Bear are conducted via Zoom by default. If you prefer a more a platform with better encrypted options; or if you're local to him and you'd like to arrange to meet in person, please reach out to Bear directly.
You'll have the option to record on your own device. Included in the price of consultation is a follow-up meeting to review any follow-up questions that emerge after your session. It's optional, and you're welcome to email those if you prefer (knowing that Bear is better in realtime than by inbox).
Sessions start at 30-minutes / $100 for new client sessions.
Sliding-scale sessions and pay-by-donation sessions are available for new and returning clients alike.
New Clients:
Learn more about consulations for new clients.
---
Learn More about Bear and his Work
Making sure you've found a great fit for your astrology consultation is important. Checking testimonials, bio, and certifications is one thing you might want to consider.
Learn more about Bear, his work and training, and what his clients have to say.
The Fine Print
Disclaimer, Terms & Conditions, and Refund Policy
Rescheduling, Cancellations, and Refunds
Rescheduling Policy
Sessions can be rescheduled up to 48-hours in advance via the link in the confirmation email.
If it's less than 48 hours from your session time and something has come up, please email Bear at: consults@bearryver.com as soon as possible. While it's generally not an issue to reschedule after that window, it's possible that you may have to wait a few weeks for the next open session.
---
Cancellation Policy
Sessions can be cancelled at any time via the link in the confirmation email.
Regular cancellations must be made more than 7-days in advance of the schedule session start time.
Short-notice cancellations need to be made more than 48-hours in advance.
Last-minute cancellations made less than 48-hours in advance are not eligible for a refund. You may request a gift certificate to reschedule your appointment at a later time instead.
---
Refund Policy
Any refunds issued are less processing fees, those will vary depending on which payment processor you chose.
Additional fees are withheld for short notice and last minute cancellations and reflect work already begun and/or the ability to offer that session time to another client.
Regular cancellations are eligible for a 100% refund less processing fees.
Short notice cancellations are eligible for a 70% refund less processing fees.
Once served, sessions are non-refundable.
Last-minute cancellations are not available for a refund.
Missed appointments are not eligible for a refund.
---
Recording Sessions
A couple of clients have asked about session recordings. It's not essential to have a recording of your session, but it's a great idea for a lot of reasons.
Because of file size, and the overhead time and costs involved with Bear handling the file directly, the preference is for you to record on your own device if that's possible. You don't have to wait, and Bear doesn't have to store terabytes of video files.
If it's not, and you'd like a recording, that's a-okay. He'll send you a link to download the recording of your session within 3 - 5 days in most cases. If it's been awhile, and you suspect ADHD may have eaten his homework, feel free to send an email with a gentle request.
---
Please Note:
Bear doesn't bite! He's a person too. If something comes up, just reach out. He's committed to being of service and building reciprocal relationships of trust – he's happy to work with you if you just communicate with him.
---
Book Your Session
Sessions can also be booked via my scheduler here: bearryver.as.me
Questions?
Email: consults@bearryver.com
---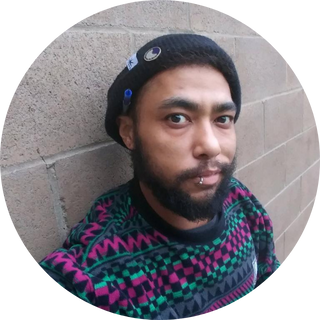 Bear Ryver is a professional astrologer helping his clients hone strategies for grounded growth and embodied empowerment by bringing them back to the BASICS. Winner of OPA's Most Promising Astrologer in 2018, Bear has lectured at conferences like NORWAC and ISAR. He holds certifications in Hellenistic, Electional, and Horary astrology, and specializes in Intersectional Astrology. He was a teacher for the Portland School of Astrology, and has volunteered as a mentor for AFAN. When he's not talking stars, or pulling cards, you can find him climbing rocks and playing guitar.